Print File Extra Large Linen Binder
This Print File Black Linen 3-Ring Oversize Binder will accommodate several oversize, hard to find, print formats including 12x12 scrapbook pages. See below for links to specific page sizes.
Page Capacity: 40-80 pages
3" x 3" window on album cover
Dimensions: 15-1/4" W x 13-1/2" H x 1-7/8" D
High quality black linen covered exterior and interior
Ring size: 1" black O-rings spaced 4-1/4" apart on center
Durable, archival quality, acid-free construction
080-0475


This extra large binder will hold the following size pages:

Pioneer 12x12 Scrapbook Refills
Print File 9x12 Print Preservers
Print File 10x13 Print Preservers
Print File 12x12 Scrapbook Preservers
Print File 12x12 Print Preservers For 4x6

Product Reviews:
Write a Review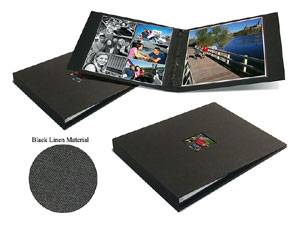 Enlarge Image


Catalog# F-BL-ALB


Price:

Availability: Ground orders usually ship in 2-3 business days.