C4 Universal Quick Charger
Why carry around several chargers when you're away from home? Lighten your suitcase by taking only one charger for your mobile phone, camera, camcorder, tablet or other battery operated device. Use it in your car, dorm, RV, boat, hotel and even abroad! Any two devices can be charged at the same time through the 2 USB ports. The Pixo C4 charger features a Battery Activator Function to revive deeply discharged Lithium-Ion batteries that would otherwise be unusable. Charging status is displayed via one red and three green LEDs. Silver Plated 3D-Flex Contacts are easily adjusted and slide to the correct position, since nearly all Lithium-Ion / Lithium Polymer battery packs have different contacts. Also, the charging contacts automatically detect the polarity and voltage of the batteries so there are no mistakes.
Can charge most (4) AA and AAA NIMH or NiCad batteries in pairs or (1) 3.4 - 4.2 Volt + 6.8 - 8.4 Volt Lithium-Ion / Lithium Polymer Battery Packs* (no adapter plates necessary)
USB ports have an output of 5V/2000mA USB ports for smartphones, including the iPhone, iPod, & iPad
Automatic polarity and voltage detection for Lithium-Ion batteries
Charge time 1-4 hours - charge current 800mA
Base unit size: 5-1/4" x 3-1/4" x 1"
Comes with AC adapter 100-240V at 50-60Hz power supply + 12V car adapter
Includes USB charge cables with Micro-USB and Mini-USB adapters
German engineered
DPX304

For the few batteries that cannot be charged, see the PIXO Website



Product Reviews:
Write a Review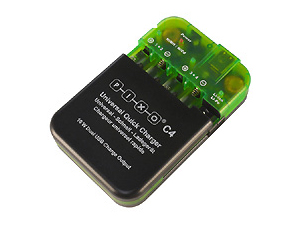 Enlarge Image


Catalog# L-UQC4


Regular Price: $59.95

Sale Price:

Closeout Special - Limited Quantity!

Availability: Ground orders usually ship in 2-3 business days.