Red Out Magic Dots - Red Eye Fixer
Revolutionary New Red Eye Removal System. These mylar dots are superior to red eye pens and other removers because they are inexpensive, easy to use, and removable - you can correct mistakes! They are non-damaging to photos and will not fade smudge or stain.

Product Reviews:
Write a Review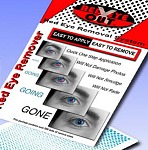 Enlarge Image


Catalog# M-MD-1


Price:

Availability: Ground orders usually ship in 2-3 business days.