Lineco Unbuffered Glassine Tissue Paper 16x20 (12 Sheets)
This 26 gm2 un-buffered interleaving glassine has a variety of conservation applications. The surface is very smooth and has a pH of 7.0. It's light weight makes it easy to fold, yet maintains its shape. Often used for interleaving watercolor and charcoal drawings, but is not recommended for long-term photographic storage.
Translucent, acid-free, non-buffered tissue with a smooth surface for superior protection
12 sheets per package
448-1626

Note: Unbuffered tissue is pH neutral, and works well for storing most items including photographs and documents. Buffered tissue has an alkaline composition achieved by adding calcium carbonate. Buffered tissue will also work for photos but if you are preserving textiles, it is better to use buffered tissue for natural plant derived fibers and un-buffered tissue for animal fibers.

Product Reviews:
Write a Review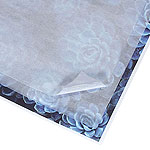 Enlarge Image


Catalog# M-TG1620


Price:

Availability: Ground orders usually ship in 2-3 business days.