Certificate Folder For 8.5x11 or 8x10 Documents (25 Pack)
These quality linen-weave Cardboard Certificate Holders are an inexpensive solution for holding or presenting awards and certificates. On the inside corner of each folding certificate holder there are half moon die-cut tabs to hold either an 8" x 10" or 8-1/2" x 11" certificate of document. Certificate folders can be imprinted with a rich foil stamp to make them an excellent choice for business giveaways in training meetings, personnel recognition, school awards, graduation diplomas or letters of achievement.
25 folders per pack
Front-load construction
Made of paper stock with a linen weave finish
Holds horizontal or vertical documents
Gold foil corner design
Overall Dimensions: 9-1/4" x 11-3/4" when folded
Made in the USA with 100% recycled material
Custom imprinting available (see below)
PF5890 (Black), PF5891 (Burgundy), PF5892 (Blue)

Note: Imprinting is optional and image shown is of a custom imprinted folder. Gold foil corner design is already pre-stamped on the front of each folder, however, you may add additional imprinting with your logo or name in foil. See imprinting info and cost below.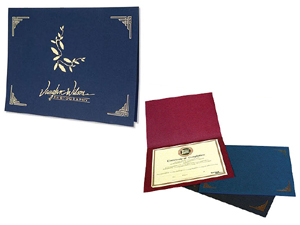 Enlarge Image


Catalog# T-CERT






(0 reviews)

Regular Price: $62.50

Sale Price:

10 packs or more at $35.63 each


20 packs or more at $33.75 each


40 packs or more at $31.88 each



Availability: Non-Imprinted Ground orders usually ship in 2-3 business days.