Red Border Polaroid Easel Frames (25 Pack)
This Red Border Easel Frame is printed with a colorful design and has a window opening to hold a Polaroid picture in place. Easel frames are perfect for Winter Dances, Cruises, Valentine's Day gatherings, Visits with Santa, Holiday Parties & more. Send your party goers home with a unique souvenir photo keepsake that makes the perfect party favor for your event. The festive graphic make these frames suitable for immediate use and can also be personalized in foil with your logo or custom message to add impact to your holiday event!
Lightweight smooth finish card stock
Holds 3-1/2 x 3-1/2 Polaroid 600, 667, 668 and Spectra prints (Will not hold 300)
Three-panel construction folds to create easel frame
Side-load construction
25 easel frames per pack
Envelopes available separately
Manufacturer Item# PF6627

Please note: This item requires a minimum order quantity of 4 packs (100 frames) and is non-returnable.

Optional Custom Imprinting
We can print a company logo or text using single color foil stamped directly on folders, frames or greeting cards.
Minimum Quantity: 4 Packs (100 Folders)
Plate set-up fee $30.00

Imprint charge $3.75 per pack of 25
Ready to ship in 11 business days
To order this item custom imprinted simply click "Imprint Item" instead of "Add to Cart". Fill out the form, complete the order and upload your artwork (optional).
If you have additional questions please check our
Imprinting FAQ
.

Product Reviews:
Write a Review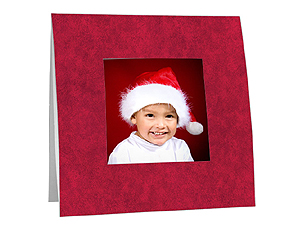 Enlarge Image


Catalog# T-PF6627


Price:

10 packs or more at $14.21 each


20 packs or more at $13.46 each


40 packs or more at $12.71 each



Availability: Requires 10 business day lead time before shipping. 4 pack (100 frame) minimum. No returns or exchanges.