Itoya Keba Ergo 3 Ring Black Binder 1-1/2
This Keba Ergo 3-Ring Binder offers the user a contemporary design with a revolutionary patented binding mechanism for easy and secure organization. Keba binders feature a black polypropylene cover design with ergonomic spine. The durable double locking arch-shaped 1-1/2" rings ensure that papers and inserts are held tightly while allowing easy access. One touch release bar makes it a snap to add or subtract pages. It's perfect for a modern workplace or for a home office.
Capacity: 200 sheets of standard paper, 50 negative preservers, 35 print preservers, 18 slide preservers, or 10 CD preservers
Injection-molded, riveted cover & spine that will never collapse or break off
3 position arch-shaped 1-1/2" rings provide fast and easy document viewing: open, browse or close
Unique and durable double locking mechanism with one touch ring release
Rings will not gap like traditional ring binders
Easy to load and turn pages
Clear built-in spine label holder that's easy to change
Ergonomic easy-pull grips for easy removal from full shelves
Environmentally friendly
Also available with 2-1/4" Rings
Quality crafted in Sweden

Product Reviews:
Write a Review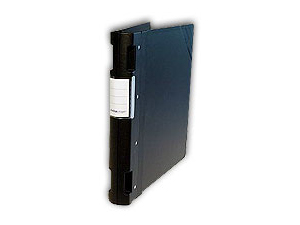 Enlarge Image


Catalog# V-KEB-1


Regular Price: $24.95

Sale Price:

4 or more at $19.13 each



Availability: Currently out of stock (Expected 05/02/2014).