Itoya Skutr Bag 13x19 Album & Tablet Carrier
This Skütr Tablet and Album Carrying Case from ITOYA is a must have transportation device for all commercial artists, graphic designers and advertising agency creatives. The first bags from the inventors of the original Digital Printer Albums, the Skütr Tablet and Album Carrier allow both oversized albums and tablet devices to be carried in one convenient travel bag; The perfect marriage for the contemporary presenter who utilizes both Tablets and printer output images when communicating their designs and concepts. Made from durable, luggage grade nylon, the Skütr Tablet and Album Carrier safely holds Tablet devices in a specially protected front pocket. The main compartment is generously sized to hold the large format ITOYA Profolio brand Digital Printer Albums. Unlike other large hand held traditional, bulky horizontal portfolio cases, the Profolio Tablet and Album Carriers' unique vertical/portrait format means even larger sizes sit slimly on your side or back and are much easier to transport. And no other portfolio is designed with a Tablet compartment.
Color: Black
Overall dimensions: 16-1/4"W x 21-1/2"H x 4" Deep
Tablet pocket interior dimensions: 7-3/4"W x 11"H

See other available sizes: Itoya Skutr Album & Tablet Carrier Bags

Product Reviews:
Write a Review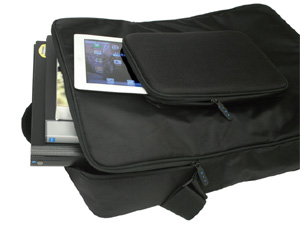 Enlarge Image


Catalog# V-PT1-1319


Regular Price: $79.00

Sale Price:

Availability: Ground orders usually ship in 2-3 business days.