PRAT Start Premium Portfolio Case 23x31x3
This PRAT Start Premium Hardcover Portfolio is suitable for the presentation and storage of 23"x31" photographs, digital prints, artwork or documents. Solid black riveted handles can be folded down making storage of the portfolio easy. Inner crossed elastic straps secure together with a plastic clip fastener to hold documents in place.
Ribbed polypropylene deluxe cover
Comfortable solid vinyl handles
Full size inside pockets and crossed elastic straps to hold documents
Smooth running double action zipper allows contents to be accessed easily
Sturdy plastic bumper feet
SPR-1312

See other available sizes: PRAT Start Premium Portfolio Cases

Product Reviews:
Write a Review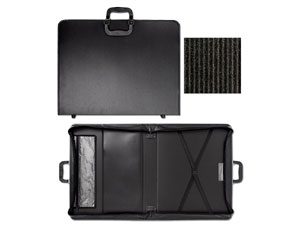 Enlarge Image


Catalog# V-SPR-1312


Regular Price: $110.95

Sale Price:

Availability: This item is currently out of stock.