Lineco Unbuffered Acid Free Tissue Paper 30x40 (12 sheets)
Un-buffered acidfree tissue is perfect for storing photographs and clothing that is sensitive to a higher pH level. Just layer the acid free tissue paper sheets between your artwork or documents to guard against acid migration and abrasion.
Pack of (12) 30" x 40" sheets
Each sheet is .001" thick

Note: Unbuffered tissue is pH neutral, and works well for storing most items including photographs and documents. Buffered tissue has an alkaline composition achieved by adding calcium carbonate. Buffered tissue will also work for photos but if you are preserving textiles, it is better to use buffered tissue for natural plant derived fibers and un-buffered tissue for animal fibers.


See also:

Product Reviews:
Write a Review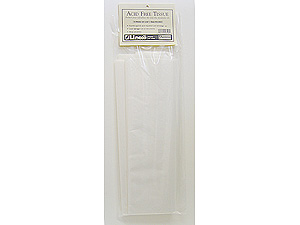 Enlarge Image


Catalog# M-3040T


Regular Price: $12.03

Sale Price:

Availability: Ground orders usually ship in 2-3 business days.