American Flag 4x6 Event Photo Folders (25 Pack)
This USA Flag Event Photo Folder is perfect for Fourth of July picnics, Military Homecomings, Inauguration Day, President's Day, Memorial Day or Veteran's Day events. Our cardboard photo folder is designed to be used as is, or personalized with custom imprinting to advertise your company name, event, organization and/or logo. We use our standard white photo event folder and then accent it with an American flag in red & blue foil. The design is hot stamped (imprinted) right onto the front of the folder.
Available in vertical (portrait) or horizontal (landscape) view
Each folder can hold one 4" x 6" format photo
Smooth finish, lightweight white paper stock
Side-load construction
Photo Opening Size: 3-5/8" x 5-5/8"
Overall Dimensions: 6" x 8" when folded
25 folders per pack
Envelopes available separately
Custom imprinting available (see below)
Made in the USA using 100% recycled acid free material
Manufacturer Item# PF5342H, PF5342V

Please note: This item is made to order and is therefore non-returnable.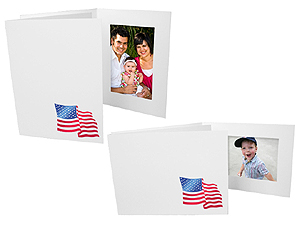 Enlarge Image


Catalog# T-PF5342






(0 reviews)

Regular Price: $25.00

Sale Price:

10 packs or more at $14.21 each


20 packs or more at $13.46 each


40 packs or more at $12.71 each



Availability: Requires 10 business day lead time before shipping. 2 pack (50 folder) minimum. No returns or exchanges.